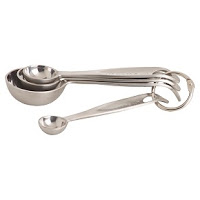 I have a bad habit of making obtuse resolutions each year. For example: "be a better person" which was a draft for 2008. (My masseuse wisely responded "what's wrong with the person you are now?") Much better to break things down into specific, actionable objectives.
Here are my resolution for the year ahead, in no particular order:
Cancel cable TV. Done!
Put on lipstick every morning. Keeping a stash of shades by the door has helped.
Find a new dentist.
Buy measuring spoons. It has occurred to me that I may not be an inherently terrible baker…just not a good guestimator.
Camp on Angel Island.
Get the dark freckle under my left eye zapped off. It makes me look tired.
Be thicker skinned.
Take bass lessons.
Paint the dining room.
Don't worry. Be happy.
Wear more red.
Judge others less.
Channel the bad-ass-ness of female rockers like Von Iva and Nancy Wilson. Oh, and the laid-back-ness of Kerri Russell.
Plan the wedding without undue stress.
Go for long rides on the tandem bike along the beach.
Make a website for the Ladies Activity Club.
Be a better listener. Try to really focus when people are talking and come up with good questions to ask back. Listen to a lot of Terry Gross for pointers.
Redecorate the bedroom.
Start climbing 5.10 c's and d's.
Cook healthy food from scratch at least twice a week.