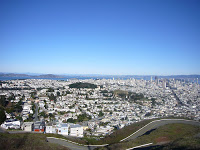 Weekend Round-Up: Goodbye to the Holidays
A girl could really get used to these lazy four day weekends! The past few days were a great chance to relax, hang out with friends and bid adieu to the holidays. You can see all my photos from the weekend here.
On Friday, we had a quiet evening at home and a relaxing dinner. It was rainy and cold out, the same as Saturday. We had a lazy breakfast while watching Once (so, so good) the next morning. Around noon, we drove out of the city to see if a big box store would have a fireplace part that we couldn't find at our neighborhood shop. No luck, but a good excuse to have lunch at In-n-Out.
Back at home, we did some chores and prepared for a dinner party across town. Our friends, Matt and Amber, hosted us for a delicious dinner and a rousing series of board games after. Taxi home around midnight.
The sun was shining on Sunday morning, thank heavens! I spent the morning cleaning out the bathroom and bedroom cabinets. Before lunch, we hopped on the tandem for a 16 mile ride to Baker Beach and back. It was brisk out but so fun to stretch our legs. A nice hot bath before taking the subway downtown for a clam chowder dinner and IMAX movie, I am Legend (so, so scary).
Another sunny, crisp day on Monday. Rob and I did a much needed laundromat trip and big grocery shop first thing in the morning. We made the most of our day off and went on a little adventure: the top of twin peaks was the first stop. I hadn't been before, what amazing views! Especially with the recent rain, we could see all the way to the Farrallon Islands.
From there, we drove to Fort Funston. We saw lots of dogs and walked along the beach, unfortunately still pretty oily from the recent tanker spill.

Party prep started right after a nice hot bath back at home. I set the table, ironed the napkins, etc in anticipation of the New Year's Day party. Margaret and Jackie arrived around 7:30. We drank Lillet and mandarin cocktails and discovered the joys of Heart. At 9:30, we headed out to grab a slice of pizza and load on to a bus with all the other revelers. The four of us made it to Bottom of the Hill with time to chat with the band backstage before Von Iva came on. This three woman band seriously rocked!

Scissors for Lefty came on around 11:30 and counted us down to the New Year in style. The only annoyance was an aggressive act of PDA in front of us for part of the show. We waited for the bus home around 1 am in front of a bar with a good cover band playing inside. Everyone was tucked in to bed around 2:30 am.
Early morning wake-up for us all to get started on cooking for the party. Margaret made the fruit salad, Jackie and Scott were on pancake duty, I made the bacon and coffee and Rob cleaned. We were super prepared when the buzzer rang at 11am. We were about 12 in total, including Jordan, Paul and new baby Moses! The gingerbread pancakes were a hit and it was a perfect way to welcome 2008.

The party ended around 1:00 and we did some clean up. Rob and I drove our guests down to San Mateo. We had plans for another bike ride, but it was cold and we were tired. Instead, we did dishes, watched Waitress, took the Christmas tree to the curb and prepared for the short week ahead.