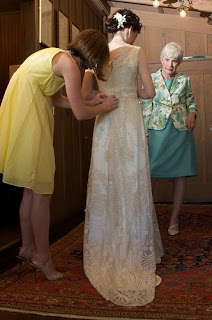 Per request from Lena in Norway, here are a few more photos of my dresses in action.
The first and best dress was my great grandmothers. It's made of three pieces of handmade Point d'Alencon lace from France. Can you believe that the whole skirt with train is one seamless piece?!
I think you can see the overall detail best in that shot of my sister buttoning it up (here's a close up). I had the linen lace cleaned and had a new silk slip made for it, but otherwise it was untouched from last being worn in 1944 by my great aunt.
My second dress, seen below, was purchased for $60 from eBay a few weeks before the wedding. It's the J.Crew Sophia Dress. Not too thrilling, but comfortable and well made in a nice fabric and trim.