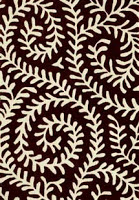 Inspired: Dash and Albert
Confession time: I am a rug-hater. I get that rugs look nice and fill in a room. But I hate cleaning them. I hate shopping for them. And I definitely hate paying exorbitant prices for them when they will indisputably be stained and ready to toss after a year or so.
Dash and Albert may turn me around! Their inexpensive woven rugs (think $150 for 6×9) are colorful, casual and all around perfect. And I'm in love with this slightly more expensive wool chocolate and white rug. I'm ordering a catalog today!