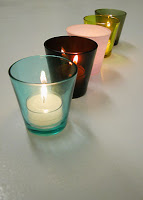 Wedding Wednesday: Votive Holders
Plain glass votive holders would be fine for our tables. But I love the idea of something with a tiny bit more flair. I was looking for rustic thick glass votive holders, with no luck yet, when I remembered Jamali Garden. I bought my centerpiece vases from this supply company in New York.
I like this design in smoke, these in white frost or this design in amber.