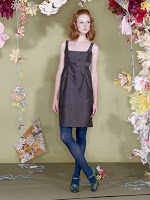 Wedding Wednesday: Paper Garland
I tore a copy of this Simple Silhouettes photo from a bridal magazine last month. It's not the dress I like (although it is nice) but the paper garland in the background. I've been trying to brainstorm ideas for decorating the stage that will be a centerpiece of our reception and variety show (here are fun photos of the stage in action).
I love the idea of a paper flower, umbrella and banner swag to hang on one side of the stage. If you have a chance to see the print ad, take a closer look at the details in the paper.