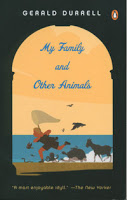 Book Report: My Family and Other Animals
I have a soft spot in my heart for funny travel books from 50+ years ago. For example: Our Hearts Were Young and Gay. I think I inherited most of these favorites from my grandparents.
One of the best is Gerald Durrell's My Family and Other Animals. It's the story of a British family moving to Greece in the 1930's. Hysterical and so well written. Perfect for warming up your winter and reminiscing about childhood summers. I really need to get my hands on his other books.