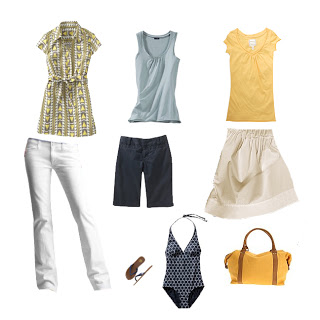 What to Wear: Florida Vacation
Packing for a vacation can be so fun. Imagining yourself posing for family photos in the perfect outfit. It gets a little more complicated when you're traveling with three kids under 2:
I hope you can give me a few ideas for my trip to Southwest Florida the this April. My trip will last 7 days. I am traveling with my six month old twins, two year old daughter, and husband. Most of my luggage space will be devoted to my kids and everything they need to make them happy while in Florida. I want to bring just essentials when it comes to my wardrobe. What do you recommend? I'm not afraid to be seen in the same outfit twice. Good luck!
The secret to good trip packing (whether to Paris in November or Florida in Spring) is to take a mixture of basic pieces in coordinating colors. Here's what I recommend for Sharon in yellow, navy and gray:
Tunic – Wear this colorful tunic top with pants or shorts.
Shorts – Navy Bermuda shorts will go with almost anything.
Tee – A basic from Forever21.
Tanks – Bring a couple in different colors.
Bathing Suit – Classic and perfect.
White Jeans – So "Florida" and surprisingly easy to keep clean.
Skirt – Flexible cotton skirt can be dressed up or down.
Flip Flops – From Gap with a leather strap.
Tote – To carry the many supplies I'm sure you need everyday.
I count eight cute outfits from just this mix of budget pieces! And everything is light enough to be washed in the sink overnight if needed.