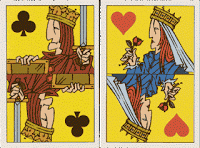 Things I Love Today: Playing Cards
Spring brings up thoughts of leisurely afternoons spent playing cards games and solitaire at the dining room table with a glass of tea. Wouldn't it be fun to play with a set that has a little more style?
This Hungarian artist sells packs of gorgeous hand-designed playing cards for $42. And you can find fun vintage sets online, like this Etsy seller's handsome vintage set that must have seen quite a few rounds of bridge. Could be a fun idea for a Valentine's Day present.