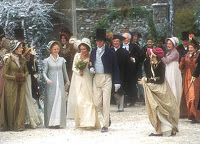 Miss Austen Regrets: I went into it with low expectations and was still disappointed. It just felt to me like a PSA against the dangers of being a successful woman; very "This is your life on intellect."
As much as I didn't like the film, some of the visuals and costumes were lovely. It would be worth watching with the volume on mute.
The niece's wedding scene was especially nice. I really love the simplicity of the Regency-style weddings in Jane Austen films. All you need is a pretty white dress, soft curly hair, a small bouquet and some wildflowers.
PS: I'll be back on Thursday!