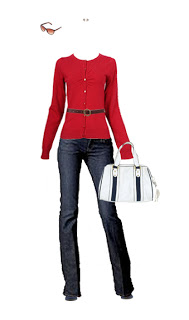 What to Wear: J.Crew Style
J.Crew is lovely…but the prices can sting. There are a lot of ways to channel their bright preppy style on a budget. Here is Chelsea's request:
My sister and I really like your blog, especially when you do the what to wear sections, so I was hoping you could give me some ideas. I am obsessed with J. Crew, except all their clothes are really expensive. I was wondering if you could put something together that resembles J. Crew style but is more in an affordable price range. I'm not looking for any special occasion, just everyday.
J.Crew's basic styles that aren't too hard to replicate on your own. This outfit would cost about $500 if you bought it from their store. Our bargain version is around $160:
Sweater – Cheery cardigan basic for $20 topped with a thin belt. Wear a simple long sleeved tee underneath for warmth.
Jeans – From Old Navy for $34.
Bag – Preppy in blue and white from Delias for $36.
Flats – In navy satin for $50.
Earrings – Pearl studs.
Sunglasses – For when the weather warms up.
Prep for cheap!