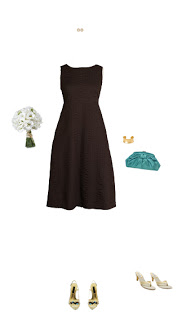 What to Wear: Beach Bridesmaid
I haven't been so lucky to attend a beach wedding, but they seem so lovely. Heather has a request:
My best friend is getting married at the beginning of May, on the beach, in Santa Cruz. I am a CA native, but no longer reside there. My issue with wedding attire is that I am a bridesmaid, but my friend was pretty lax about what we all chose to wear (what with it being a beach wedding) as long as we chose a dress in espresso. I chose this dress from J.Crew.
When I chose it, the picture was more formal looking and I am appalled at how informal it is. Even thought it is a beach wedding, the bride's dress is very formal and I think the other girls are choosing the strapless or halter option. I chose mine because I thought it would make a good spring/summer dress. Is there a way to dress this up with accessories/shoes? I would like flats because the ceremony will be on the beach. The reception will not be at the beach, however, so maybe a different shoe option for that would be a good idea?
Dressing up the dress shouldn't be too hard. It is all about accessories and panache:
Dress – From J.Crew.
Beach Shoes– Ask your bride if these would be okay. The flip flop style is good for the beach and the heels give them a tiny bit of dressiness when you're not sinking in the sand. Also, some brides want you to go barefoot? A good pedicure is a must.
Reception Shoes – Switch into these gold sandals with brown and blue beads along the toe after the service.
Bracelet – A gold cuff has an elegant, beachy style.
Earrings – I think button style earrings are more formal than a dangly pair, especially when you wear your hair up.
Bag – In blue satin to match the shoe details and on sale.
Have fun on your trip!