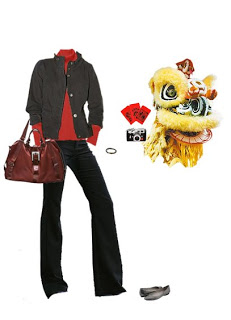 Rob and I went to China a few years ago. We absolutely loved it: the delicious food, charming people and extremely favorable exchange rate (pack light and buy a suitcase there to home full of clothes and other goodies).
I have a what to pack question. My mother & I are taking a trip to China (Shanghai and Hangzhou) in early April to visit my brother, who is in Hangzhou teaching English. We'll spend some time in both cities exploring, sight-seeing and shopping. I expect the majority of the trip will require casual clothes and the temperature to be in the 50's.

I'm 5'2″ size 0-2, medium build. I'd like some outfit ideas that incorporate layers and minimal wrinkling and maximum portability. I'd like to look put together but still be comfortable and not draw too much attention to myself (though as a redhead in China, that may not be possible!).
Blending in is going to be pretty impossible. Maybe you'll get away with it in Shanghai, but not outside the major cities. The attention is usually really friendly though, go with it. A pair of jeans and basic sweaters are always good, I'd also take these:
Jacket – It can be really cold. It was snowy on the Great Wall when we were there in March. This medium weight jacket should be enough for most days.
Sweater – Red is a lucky color in China…and you'll look great in photos outside of colorful temples.
Pants – It's always nice to have something other than jeans. Casual slacks can be dressed up or down.
Shoes – Honestly, these Me Too flats are so comfortable. Their marketing rep needs to send me a few free pairs for all this publicity recently.
Bracelet – With tiny bamboo details.
Bag – In red from Target.
Enjoy your trip!