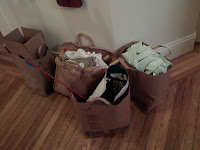 Day one of the simplify challenge went well. We stopped at the Mexican produce market for cheap veggies on the way home from the gym. Dinner was another taco night, this time with homemade refried beans and guacamole. Dessert of fresh bing cherries.
After dinner, I tackled the hall closet. This tiny little niche serves as linen closet, workshop, garage, gift wrap room, sewing room and gift stash. I cleaned out four bags of junk ( 2 donation, 1 recycling, 1 trash) and organized what was left. I wish I could make myself get rid of more. The whole project only took 40 minutes. The first thing I did this morning was open up the closet and bask in the organization. Here's the before and after.
Next up: The bedroom. Those bedside table drawers are a mess and who knows what's under the bed right now.