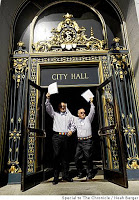 Things I Love Today: California
The whole city is abuzz with weddings right now. It feels like something out of a musical about a royal marriage; all the townspeople are gossiping and preparing for the big events. I wouldn't be surprised to see some pigeons fly by with a swath of tulle in their beaks.
Cakes are being baked, invitations are being mailed, flowers are being arranged. Even the weather cleared up and jumped 15 degrees for the day. My dental hygienist today couldn't stop talking about all the weddings he's going to in the next few weeks. You can't watch the evening news without tearing up as these excited couples say their vows after 10, 20, 50 years together. It's a really special time.
This isn't a political blog, but it is one about San Francisco and about weddings. I just thought I'd share a first hand report of the joy that has swept the city. Go marriage!