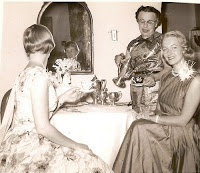 Enough wedding planning for now, I've got a party to throw this weekend! I printed and sent the invitations for this shower at the start of July. We're on for 6 people. Small enough that I think we'll eat at the table instead of a buffet.
I love the ideas that I came up with back in June, I just need to flush them out.
Food – Homemade tomato soup can be made the night before. Pair cups of that with three kinds of small sandwiches: smoked salmon wasabi, baked cheese and mini BLT's. Make a veggie platter to go along. Buy supplies, dessert and flowers at the Ferry Building farmer's market the day of the party. Get supplies for serving midori sours and cold white wine.
Decorations – White tablecloth, green napkins, red bows, green carabiner favors. I need to iron and polish silver on Friday night. Hang red balloons on the chandelier? Turn the extra printed materials into a menu and placecards. Buy a gardenia corsage downtown on Saturday for Leslie to wear.
Activity – After lunch, we'll do one round of pub quiz and then open presents. Follow that with another round of pub quiz and announcing the winner. Have the guests sign the menu and give it to Leslie. I embroidered some dish towels last weekend to go along with my gift.
I'm going to be a busy bee this weekend!