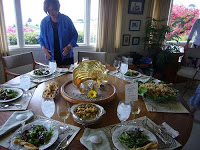 Party Recipe: Southern Shower
My shower on Monday was so, so lovely! Our hostess, Kate, is a close family friend and a wonderful entertainer. She uses her southern charm to make everyone feel special and elegant. Her style has always been a big inspiration to me. I'll be using some of her ideas at the party I'm throwing next month.
She hosted six of us at her home on the water in Shell Beach. Her husband, a retired orthopedic surgeon, served as our "butler" complete with a polka dot bow tie and matching apron. We started with cool glasses of white wine and sesame crackers.
For the luncheon, Kate served plates topped with mixed greens and cheese straws. Three different cold salads were available to put on top of the greens: a curry chicken salad, a shrimp pasta salad and an ambrosia salad. Everything was delicious, especially the curry salad. Sand dollars with our names in gold served as place cards.
After eating, coffee was served with chocolate truffles. In lieu of games, Kate had arranged for each person to bring a gift along with the "something old, something new" poem. My mom and aunt gave me heirloom crystal pieces from the family stash. Kate gave me a garter as something new. Jean lent me her most prized possession – her reef flip flops – as something borrowed along with some lovely silver champagne glasses. Cousin Jane gave me napkins and placemats as something blue. And Kate also gave me a Queen Elizabeth sixpence for my shoe. Isn't that clever!
We all went home with lavender sachets for our shoes as party favors. The guests signed the menu card for my scrapbook. I felt so honored! What a perfect event.