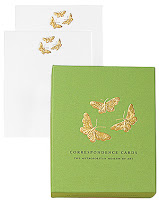 Wedding Wednesday: Thank You Notes
The two great dictums of being a "Williams daughter" are to wear sunblock and to always, always write thank you notes promptly. A sunburn or a missed thank you note in our family trumps any other offense.
So now that the influx of wedding gifts has officially started, I've been pumping out thank you notes like a machine. I have seven to mail today alone. At this rate, I'm going to run out of stationary in about two weeks.
The Met's correspondence card collection is a good way to stock up. For $22, you get 25 classic gold embossed cards with matching envelopes. I ordered two sets of the design that is currently on clearance for only $5.
(PS: My hairstylist was telling me about her friend who was married four months ago, is already pregnant, planning a baby shower and has still not mailed out her wedding thank you notes. This almost sent me into a coma. I know life is busy, but thank you cards are a piece of cake. If – heaven forbid – you fall into this category, do me a solid and write your thank you's tonight.)