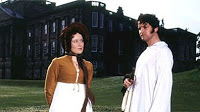 One of our local PBS stations has recently gone all BBC, all the time. I'm loving catching up on old favorites and tuning in to new programs! Have you seen these?
Pride and Prejudice – Of course you've seen this! Who hasn't watched it at least 10 times, much to the chagrin of their boyfriends/fathers/husbands.
The Vicar of Dibley – I've only watched one episode but it was hilarious.
Doctor Who – The best of cheesy British sci-fi.
As Time Goes By – I love this show! Judi Dench is a comedic genius.
Secrets of the Sexes – Very interesting. All about how men and women are different, what factors are important in attraction.
Doc Martin – Another one I've only caught once but liked.