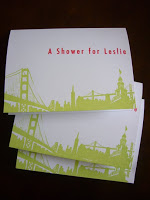 To Do: Shower Invitations
I'm happy with the way my shower invitations turned out last night. Random weeknight craft projects are fun!
I made the design using a stock illustration of the San Francisco skyline and a Futura font for the text. Then printed it in black and white, made a photocopy on the old carbon machine they thankfully still have at Safeway and created a Gocco screen. The final result was ten invitations and a bunch of extra materials that I can use for placecards and a menu card.
I liked the design so much that I covered the red lettering and ran an extra six to serve as notecards. I'm going to offer them to my friend Nicole to use as moving announcements.