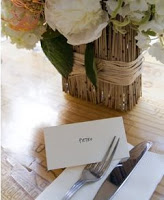 Wedding Wednesday: Little Details
With 73 days left until the wedding, most of the major jobs are finished and I can focus on the smaller things. I'm looking for your input:
What small detail have you appreciated at a wedding?
I'm not talking about "I'll have my wedding planner bake vegan brownies in the shape of my initials to put in the guest's custom embroidered tote bags" details…but small, inexpensive details that you noticed and liked at events you attended.