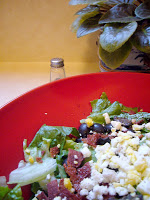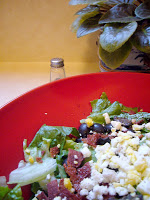 A rare warm evening in San Francisco and the first chance to eat at home in four days…what to make for dinner? A big cobb salad in a bright red bowl. My variation includes lettuce, turkey bacon, black olives, bleu cheese and balsamic vinaigrette. Followed by watermelon and blueberries for dessert.
I usually add an avocado to the salad, but decided to try a boiled egg this time instead. It's part of my strategy to start eating all the things I didn't used to like.
By the way, is there a consensus now? Are eggs supposed to be good for you or bad for you?