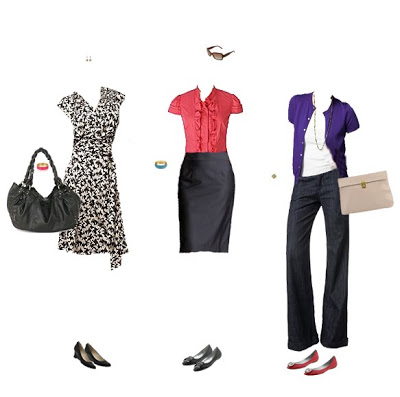 What to Wear: Junior Executive
Jora from Domestic Reflections wrote in on Sunday with a What to Wear request:
I'd love to order up a What to Wear post for my baby sister. She just graduated from college and got her first job as a Marketing Coordinator for a financial services company with a small-ish office in San Diego. I think she probably feels a little awkward still in a suit and pumps (after growing up in San Diego and going to college, she pretty much lives in tanks, jeans, sandals, sundresses, etc.)

The office is business casual, but she will likely be doing some travel to trade shows (which will require more formal business attire). Since this is her first "real job," she doesn't have a lot of extra money to get her wardrobe started. Could you help her out with a beginner's work wardrobe? Thank you! –Jora
Joining the corporate world doesn't mean throwing your style out the window. Thank heavens the days of power suits with shoulder pads are long gone. There are plenty of ways Jora's sister can keep up her casual california sensibility: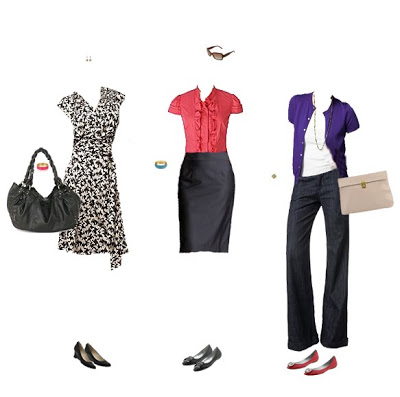 Dress – A printed jersey dress is a lifesaver, especially one from DVF. You can wear it to the office and they're perfect for business travel since they don't wrinkle. I have one that has been to several conferences, weddings, business dinners, etc. They're a splurge, but you can find them on sale at consignment shops, nordstrom rack and eBay.
Earrings – Pearl drops from Anthropologie.
Bag – From Urban Outfitters.
Wedges – So much better than heels when it comes to being on your feet all day.
Blouse – A fresh version of the classic button up shirt. Great with a pencil skirt or jeans.
Skirt – A pencil skirt with a light sweater or other top is a great uniform. Aim for good quality basics in black and gray – the easiest to match – as you build your wardrobe.
Bracelet – Inexpensive accessories help you stretch your outfits further.
Flats – A comfy pair in black.
Trouser Jeans – This is California and people still wear jeans to work – on Friday at least! A good pair of polished trouser jeans is a nice way to stay sharp.
Cardigan – It's cold in the AC all day, so invest in versatile layering pieces that can go over your old standby tanks and tees.
Sunglasses – For lunches out with the team.
Clutch – A classic "office" look from Forever 21.
Shoes – A pair of red flats is super handy.
Rings – Gold stacking rings for $13 from Etsy.
With a little bargain hunting know-how, Jora's sister can pull together this sharp style pretty inexpensively!