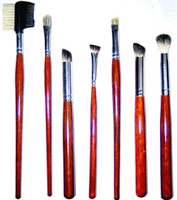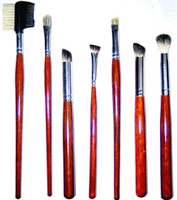 I have to share this awesome comment from Katharina on yesterday's make-up post:
Here are some super secrets from my headshot days….
For eyes:
Urban Decay makes a great eyeshadow primer–no creases or color transfer across the eyelid. I use it as a base when I have a long day ahead.
To make your lashes look really lush, apply a black waterproof gel, liquid or wet/dry liner on the rim of the upper eyelid, just below the lashes and right next to your eye. MAC fluidline works well, or dip a damp brush into Laura Mercier's Caviar Eye Liner in Black. The right brush is important–something shaped like MAC #266.
To brighten your eyes and make you look more awake, lightly line inside the rim of the lower eyelid (again, right next to your eye) with a white eyeliner pencil. Go easy on it so that there's not an obvious white line against your mascara, but this trick does wonders to perk up the eyes. Estee Lauder has a nice soft one called #10 White Writer.
For skin:
A bit of subtle judiciously placed highlighting makes a HUGE difference in photos. I recommend a highlighting powder or cream to brighten the browbone, inside corners of the eyes, and high on the cheekbones. MAC has a good one called Strobe Cream (you can get a sample at the counter), or they have a dual highlight/lowlight powder compact. The lowlighter works great in the hollows of the cheeks or even as a bronzer.
For lips:
One of my biggest wedding day goof-ups was not wearing kiss-proof lip gloss. The photographer had us smooch, then my husband gave me a kiss on the forehead. Yup. Big, fat lip prints on my forehead in a bunch of the shots! I don't have a foolproof product for this arena, but I've heard good things about Cover Girl's non-transferrable lip color/clear gloss combo.
How's that for a little internet ask and ye shall receive!