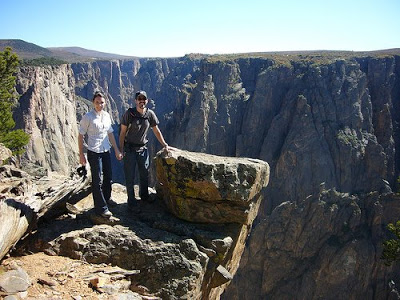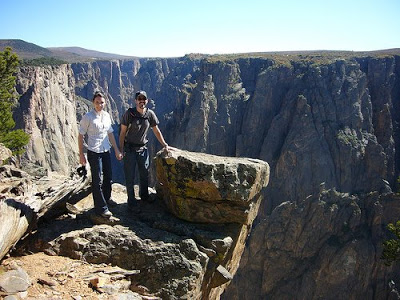 I had too much fun staying with our friends in Paonia to remember to take many photos. We arrived the night of the second Presidential debate and were treated to elk chili and a warm welcome from their dogs.
The next day, they took us to Black Canyon, an amazing place that I had never even heard of before. We hiked to Exclamation Point (get it) to have a picnic with eagles flying overhead and freshly picked pine nuts. At its deepest, this canyon is 2,700 feet down. Pretty spooky!
We had dinner that night at the very good Flying Fork Cafe & Bakery in Paonia. And were loaded up with maps and tips for New Mexico.
The next day was not the finest of our trip. I had been fighting a small infection in my nose for about 6 weeks by this time; ignoring it with all the wedding madness. When it started to swell outside of Paonia, I finally agreed to go to a doctor. In Gunnison Colorado, we walked into the local family practice and I was seen right away by the excellent Dr. Talbert. So much for the health care crisis! With two perscriptions for antibiotics, we spent some time waiting at the Wal-Mart pharmacy and walking the tiny downtown.
You can see all our photos from Colorado here.
Tomorrow: on to New Mexico and the disaster that was the Abominable Snowmansion.