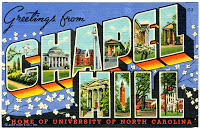 To Do: Visit North Carolina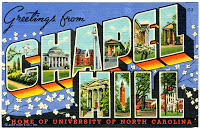 My office is having one of those slightly scary mandatory holiday closures this year thanks to the recession. We're off from Christmas to the Monday after the New Year.
So, when life hands you unwanted vacation time off….take a trip! Rob and I booked plane tickets to North Carolina for the week. We're meeting my sister and her boyfriend at the airport. They'll be freshly off the plane from Mexico – lucky dogs.
I'm sure they will have loads of activities and ideas for us. But I'm always open for tips from readers. Any ideas for things to see or do near around Chapel Hill that week?