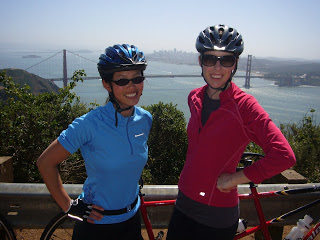 Weekend Round-Up: Mileage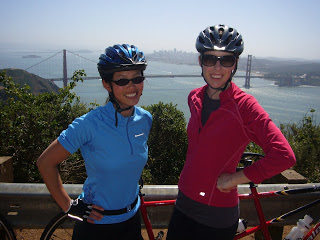 Whew…we did a lot of biking this weekend. It's great training for the tour, but -wow- am I tired.
On Friday, our friend Jackie came out from Davis. Critical Mass was on her list of 30-things to do before turning 30 and we were glad to help. We joined up with the other bike riders by the Ferry Building at six. I was impressed with the ride – especially after previously hearing so many bad stories. Everyone was polite, the onlookers cheered us on and the motorcycle police escorts were amazing. There was one lovely moment where we rode through a small street in Chinatown and it was completely silent except for the chiming of a few hundred bike bells.
Home at eight, chilled to the bone. A quick round of hot toddies before dinner at the Ethiopian place up the street. To bed early in preparation for our ride the next day.
Up the next morning and out the door on bikes for breakfast at Velo Rouge cafe. We needed a big meal before our serious ride. Over the Golden Gate Bridge, around the steep Headlands Route, and then around Paradise Loop. 55 fast miles and about 3,000 feet in climbing in five hours.
We met Margaret back at the house and devoured a cold watermelon. Cleaned up, the three of us girls took the subway downtown and shopped for a few hours. I got a great collection of summer tops at Forever 21. Jackie peeled off for a dinner engagement. Margaret and I took the train back home and made nachos for dinner with Rob. We watched Twilight, which is a messed up movie (young women of the world: please don't go into the woods alone with creepy stalkers, even if their skin does sparkle like diamonds) but was good for laughs. To bed after SNL.
Up the next morning, we made coffee and oatmeal with Jackie. Margaret came over and we got on the bikes again for Sunday Streets. We rode up and down the embarcadero, crowded with kids on bikes and tourists. Lunch out on the patio at Taylor's Refresher.
We rode home around the ballpark and stopped at Sports Basement on the way. Back at home we recovered with tea, lemon cupcakes and a little bit of Lego Batman. In the evening, Rob's friend Rich came over for dinner. Ethiopian for the second time, lucky me!
Altogether, we probably did a total of 75 miles over the weekend…wowzer.