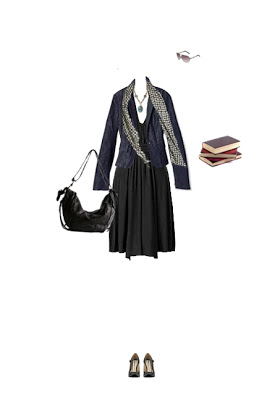 What to Wear: Graduate School
Katie is about to embark on a big city adventure:
Here's the scoop: May 26th, I start my Masters in Public Administration in Environmental Science and Policy from Columbia University. I grew up in New Mexico, went to college in San Diego, put in some urban/euro time in Berlin, and am now back in New Mexico.
All of my jobs since undergrad have involved fieldwork, meaning jeans and hiking boots. Needless to say, I love the outdoors, am rather low maintenance, and have a pretty down to earth style (adore Keri Russell and that post of yours). Jeans, solid shirts, and fun, unique accessories have been my non-work tune. However, I'd like to think that I'm not totally inept at whipping up some decent outfits, but I need "looking cute and grown-up style endurance" as opposed to the occasional chance I get to wear something other than field clothes. I've got a few nice pieces, but they are more geared towards winter. In the summer, I've tended to just run around in flip flops or a long sleeve shirt to fend off the sun.
SO, what the heck is a girl to do for a) my first day of grad school (plus it's Ivy League. Yikes!), b) New York, and c) an urban summer. Talk about a few things foreign.
I've got blonde hair, blue eyes, and olive coloring; I'm 24 years old, 5'5″, size 6, pretty straight-waisted and pretty intimidated by Manhattan and grad school, let alone the combination. You've seen Sabrina, right, original or remake? Where she goes off for a year and comes back fabulous, stylish, and that much wiser? Adored that film growing up. Well, my style certainly matured after living in Europe for a year, where I picked up most of those nice winter-y pieces, but I didn't come back quite as chic as Miss Hepburn and just haven't had much practice at dressing like a grown up. That's where you come in!
Would you come up with a first day of school outfit that incorporates some good staples to wear into the season? Or cover some must-have pieces instead? Outfits for the first week have to be totally pre-meditated and in my suitcase as I'll be at out of town the weekends before and after I start (for a graduation and wedding, both in NM. Yes, May=hectic). Oh right, and I'd be more than happy to make some solid investments for long-term pieces but am on a budget. No fashion stimulus package from this kid.
Doesn't she sound like such a great person? If she were moving to San Francisco, I would totally invite her over for a welcome-to-the-city slice of cake: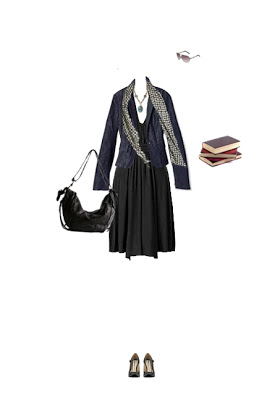 Blazer – In super versatile dark denim from Club Monaco. A classic piece that you can wear with tons of things for many years.
Dress – A little black dress with a little draping detail. When it is cold, throw a long sleeved shirt underneath and wear tights with boots. When it is hot, pair it with a pair of sandals and some sunblock.
Necklace – Wearing your favorite hometown turquoise will be interpreted as boldly independent and stylish.
Scarf – Always helps me feel polished.
Shoes – Wedges from Kenneth Cole are professional with a fun twist thanks to the ankle strap. They'll be comfortable but you'll probably want to toss a pair of flip flops or flats in your purse for long hauls.
Sunglasses – Aviators.
Purse – From Urban Outfitters. Big enough to carry your books and pens.
Focus on classics as you build your wardrobe. Add a good pair of jeans, a great pair of trousers, a pencil skirt, a versatile belt, a white blouse and some colorful pieces and you'll be ready for anything the city throws at you.