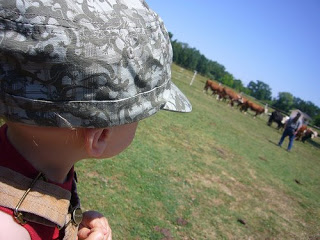 Weekend Round-Up: Town and Country
Ah, long weekends. Rob and I loved this opportunity to relax in the country. We drove up to Weaverville early Saturday morning to spend time with our friends, Rich and Molly.
First stop: Cottonwood. We met Rich and Molly there with some of her relatives, all working on rounding up cattle that had been grazing in the Sierras for a few months. I held the baby and stuck to the shade while the others tried to sort the cows and calves into trailer-ready bunches.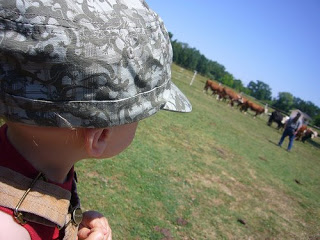 Rob and I took off a little early, we had to make it to Weaverville and cell coverage in time for a work-related radio interview. After the interview, we drove to Hayfork and met up with the family as they dropped off the cattle at the ranch. A nice dinner of bbq pork ribs, potato salad and watermelon with the family.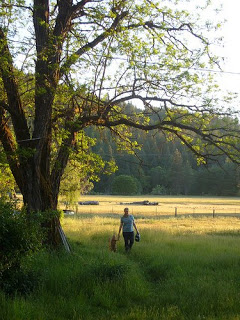 The next day, we went for breakfast together in town. Rob and I headed off on the bike for a steep 44 mile ride to Trinity Dam.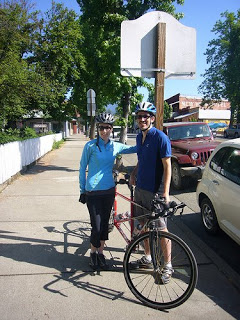 Whew! A very steep climb not helped by temperatures in the 90's toward the end. We dropped down along the river to a cute town called Lewiston and then back to Weaverville along Rush Creek Road.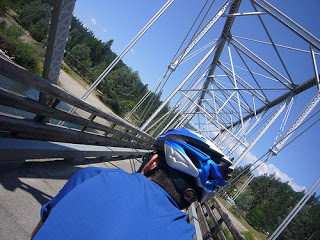 Back at our friend's house, we cleaned up and cooled off until dinner. We had a nice meal at one of the little town's fanciest places, Le Grange Cafe.
The next morning, we shared another nice breakfast together in town. As is tradition, Rob and Rich took me to the shooting range for a little practice. It was my first time with a riffle. I only took two shots, but both were well on target.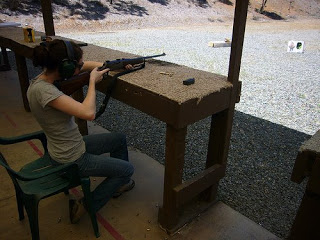 *Note: As I said last time we went to the range, I am firmly pro-gun control and have no interest in hunting. However, when we're in the country, I appreciate the opportunity to learn to safe handling. It's good to be well-rounded. Oh, and I might not mind a pair of tweed breeks and a classic British-style clay shooting party one day.*
We took off for home around 2:30 and made it back to the foggy city around seven. A quick bit of unpacking and laundry. We're preparing for my sister and her fiance arriving this Wednesday for a visit! You can see all our photos from the weekend here.