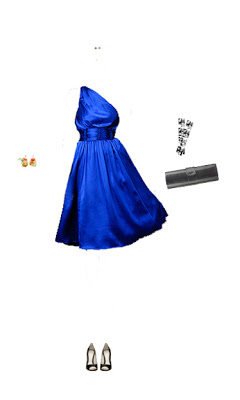 What to Wear: Wedding Season
Jeannie wrote in with a request for the upcoming wedding season:
I am a friend of Susan, at syleegurlinthecity. I've been a long time fan of yours and told Susan to check our your blog when she moved to SF! It's now so wonderful to know that you two are friends and hang out. I have a What to Wear request for you. In light of these economically difficult times, I am finding that the upcoming wedding season is very frightening! I have two weddings coming up, one in New York City and another in Boston. Both are going to be incredibly chic affairs.

The New York one will be an evening wedding at an avant garde Brooklyn art gallery, www.smackmellon.org. It is ultra cool and so I definitely want to look very city chic. The Boston wedding is for my boyfriend's childhood best friend and I want to make a good impression. But here's the rub: I am but a poor magazine editor and with the print publishing world going the way it's going, I know I should start saving money, so I would like to get a dress that I can wear to both weddings that is under $100! I know, seems impossible … but you seem to be a miracle worker, so perhaps you can work a miracle for me!

I am 5′ 3″, and weigh about 110 pounds, so I'm a petite girl, but i'm apple-shaped (I carry weight right in my tummy and butt!) so I don't do the skin-tight thing very well. I've been thinking about trying to find a one-shoulder dress because I think they look awesome and I've never worn one before, but I'm open to anything.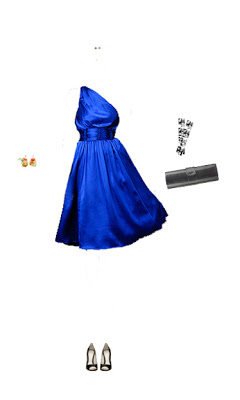 Dress – I found the perfect thing for Jeannie on sale from $375 to $75 online. The blue silk is so elegant for both weddings. The cut is flattering and the one-shoulder design looks classic, not trendy. You could even try it with a black belt. Click on the link to get a look at it in action.
Earrings – A pair of labradorite studs tie in with the dress color and are an unorthodox choice. On sale for $30.
Shoes – Basic black peep-toe pumps. You probably already have a pair that would work perfectly.
Clutch – In pewter and 50% off.
Bring your best black coat, sweep up your hair, highlight your eyes and prepare for two excellent weddings!