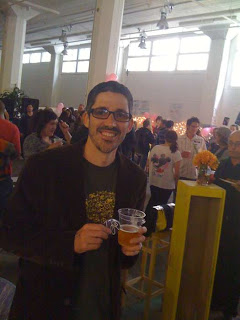 Weekend Round-Up: City Lights
What a great weekend! Just the right mix of doing a lot and doing nothing.
On Friday, Rob and I had plans to go to the gym but blew them off at the last minute for two events with coworkers. The first, Timbuk2's 20th anniversary warehouse party. The messenger bag company opened up their production facility to a hosted DJ, free drinks, jello shots, photo booth, free food and custom button-making.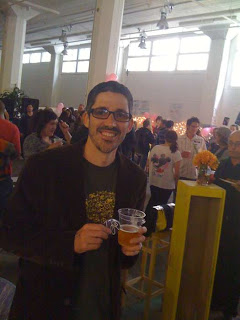 Fun! From there, we rode our bike down to North Beach to a memorial service for analog TV (switched off at midnight last Friday). Philo T. Farnsworth invented TV in a workshop on Green Street in 1927. The Green Street Mortuary Band played taps, people made speeches about the history of television, Philo's grandson made an appearance and we listened to 30 seconds of broadcast static for the last time.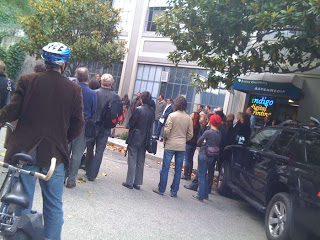 The event sponsored a round of drinks at Pier 23 after the service. We sat out on the pier watching the sunset and toasting the end of analog. Back home at dusk, the city is so lovely by bike at that hour.
Up early the next morning to prepare for Mountain Play. Quick packing and grocery shopping before we picked up Matt and Amber (due with twins this summer) and headed to the top of Mount Tam. We got there before 10am and grabbed fantastic seats. Our early arrival gave us time for several different rounds of picnics.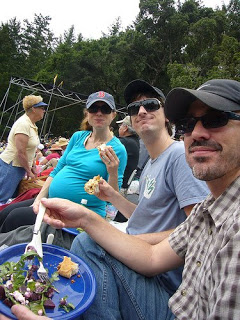 The show started at 1:00, a great production of Man from La Mancha. Surprisingly touching!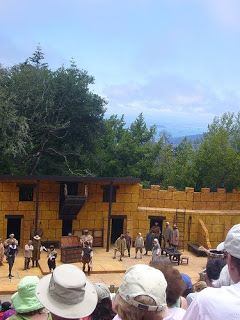 Back home at 4:00. Rob and I spent the rest of the afternoon lounging about watching old episodes of the Colbert Report. According to Rob, I made the world's best pork chops, applesauce, corn and nectarine cobbler for dinner.
The next morning, we slept in a bit and had a great breakfast of french toast with fruit cobbler on top. We dashed out of the house at 9:30 for an impromptu trip to the Academy of Sciences. They have a special members-only planetarium show at 10:30. Nice show and a great chance to visit some of our favorite exhibits (aquarium beneath the rainforest, leafy seadragons and penguins) before it became too crowded. We had a nice light lunch of steamed buns and spring rolls in the cafeteria. On the way home, we stopped at the rose garden in Golden Gate park and my favorite produce market on Divisadero.
Rest and chores at home for a few hours. Rob and I took the bike out one more time for a quick shopping trip downtown. We treated ourselves to cream puffs from Beard Papa in Yerba Buena park before coming back.
Margaret came up for dinner after work. Coq au vin with mushrooms, blue potatoes and green salad around a candlelit table. A bit of embroidery work before bed.