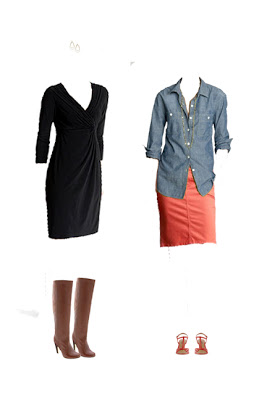 What to Wear: Suddenly Slimmer
Sheri has slimmed down significantly and is looking for a new wardrobe:
I have been reading your blog for sometime. I love all the outfits you put together. I have a special request if you have the time. I recently won a weight loss contest over a blog. I won 2nd place and $600. I now am having trouble buying clothes. I have gone from 14/16 to a 6/8. I am 5'3″ with blonde hair blue eyes. I have not really done much shopping in the last couple years because I have had 3 kids and gained so much weight. I really like to look nice and put together but I feel like I have lost all since of style.

Here is where I need your help. I have this $600 plus about another $300 of my own to spend. I need to come up with a wardrobe that can mix and match. I will say I hate my upper arms so I don't wear tanks or sleeveless. I layer in the summer because all malls and restaurants crank the AC so I am cold. I do have a nice pair of seven jeans that fit great. Other than that it is all clothes that look like I am pregnant because they are so big. I am a mom so I prefer machine washable but will dry clean for the right piece. I need items for church and for going out with my hubby(more dressy) then causal cool everyday wear.
Here are a couple basics that would be a great addition to Sheri's wardrobe for the whole year: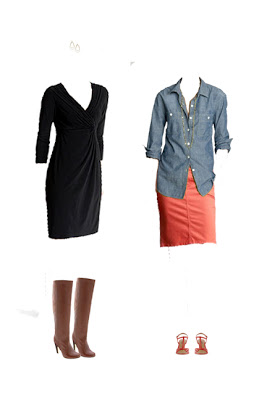 Dress – I have this black dress and love wearing it to work. Macy's has it for even less in person. The sleeves, neckline and highwaisted cut are modern and forgiving. Wear it with a bright sweater or blazer to church. Add a pair of fancy heels for a night on the town.
Boots – Brown boots with a black dress is super trendy in the city. It's a fresher, younger variation on the little black dress. These are especially well-priced from the Nordstrom anniversary sale. Amazing with dresses, skirts or jeans tucked in.
Earrings – Handmade gold hoops from Etsy.
Shirt – A classic chambray top is perfect for casual days. You can also layer it with a pencil skirt or trousers for fancier days.
Skirt – A coral pencil skirt.
Sandals – Show off your new gams with a pair of wedge sandals in tangerine. On sale.
Necklace – A lovely beaded necklace from Etsy.
Have fun on your shopping spree, Sheri!