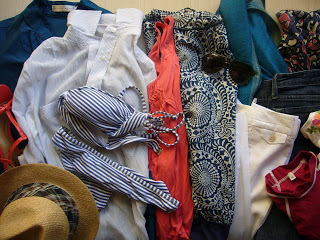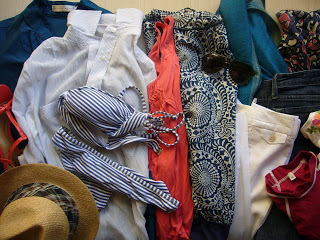 What a crazy week. I'm working like a maniac at huge conference for three days and then hopping on a plane for Hawaii on Thursday. Jean's bachelorette party is going to be a blast.
For the trip, I've picked up a couple new things and shopped my closet for a blue, white and coral color scheme. Here's what I'm taking to Maui:
Cotton tunic in peacock blue that can be dressed up or down.
New gauzy striped blouse from Club Monaco
Striped blue bikini from Boden
Straw hat borrowed from Rob
Pleated coral tank
Blousy blue and white top from Brooklyn Industries
White linen trousers
Pair of pencil-leg jeans
Rash guard (aqua-turtleneck!) to protect my skin during any water activities
White bikini
Peacock blue scarf, a San Francisco-girl never goes anywhere without a scarf
Maxi dress
Not shown: flip flops, fancy tank top, sneakers, nightgown, leggings, waterproof jacket, J.Crew jersey cardigan, grey t-shirt, books, sunblock, watercolors, camera
What am I missing?