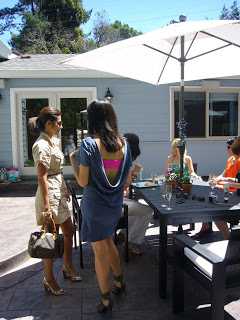 Weekend Round-Up: Not Much
I had a pretty mellow weekend. Unusual for me, I know, it was prompted by strange weather and a looming business trip this week. I took it easy!
On Friday, Margaret and I met after work for frozen yogurt and pedicures downtown. After our pampering, we walked across the street in our temporary flip-flops for delicious Thai food in the Westfield Center's food court – great food choices in the basement there and all served on real plates and silverware. Across the street for some shopping after dinner and then back home around 10 for some wine with Rob. She headed home and we hit the sack shortly after.
On Saturday, Rob left after breakfast to volunteer in the Presidio. I had a relaxing morning spent cleaning and working on a few project. At noon, I walked a few miles to Trader Joe's and back – it was a weird day, super windy and warm. Rob came home in the afternoon with a hurt back from his volunteer work, so we just relaxed in the afternoon. That evening, we drove to Redwood City for a birthday party at a friend's house. Delicious BBQ pork and homemade old-fashioned cocktails.
The next morning, Rob and I had egg tacos and coffee for breakfast. At 11:00, I picked up a friend from work and we drove to Orinda for a co-worker's bridal shower. A lovely house and a fun event packed with very stylish ladies.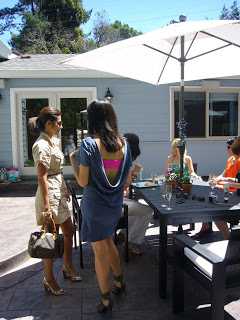 Back home at four – it was a gorgeous day in the city. Rob and I went down to Walton Square to do a bit more grocery shopping for the week. I had never noticed the park's brick archway before.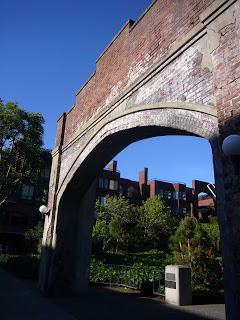 We made artichokes and a big green salad for dinner. Cleaned up the apartment and prepared for a busy week on the road for work.