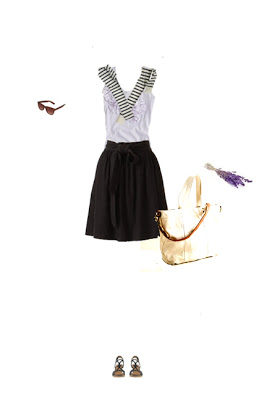 What to Wear: South of France
Gigi wrote in with a request for her summer vacation:
But my question is for two weeks of summer in France-the southwest corner, near Perpignan. I read about dresses and skirts instead of shorts, comfortable shoes-but how do you pull that together and how do you pull it together to cram in a suitcase? I am a size 2. Any advice would be appreciated.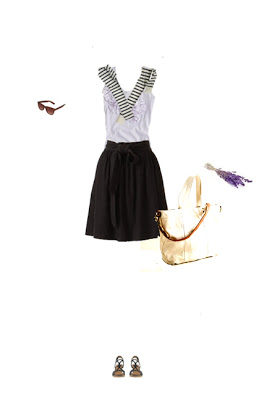 Skirt – Black linen will be impossible to stain or wrinkle during your travels. You can tuck in almost any shirt with that belted waist.
Tank – Ruffled in light lavender and great for skirts.
Sweater – A little striped number you can keep tied around your neck for cool nights and church tours.
Sandals – Clarks are worth every penny. These sandals should be comfortable enough to walk in all day and look cute enough for a dinner out. Plus they work with pants or skirts. Also bring a pair of flats and a pair of sneakers.
Tote – In classic canvas.
Sunglasses – Vintage-styled
Toss in a dress, a bikini, a couple tops and a camera – you're ready to go!