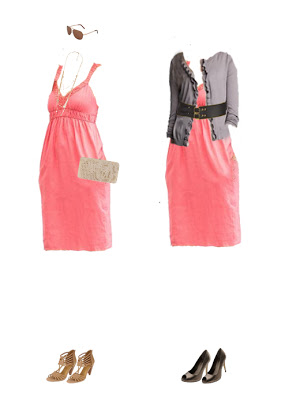 What to Wear: Summer Wedding Bohemian
Cara wrote in with a request for summer wedding season:
I would really love some of your expertise! I need a dress for a wedding in June, I need something that is pastel and to the knee. What I really want is a dress that is not so formal that I won't wear it often and I am hoping to find something that is a little bohemian chic.
Here's a fun summer dress that could work for the wedding and the office: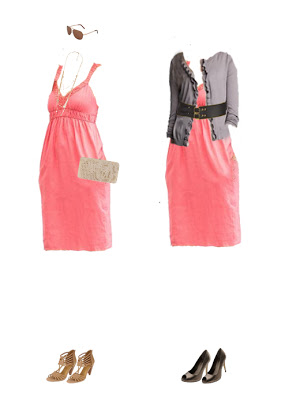 Wedding
Dress – This little pink number for Banana Republic stands out for the crowd with a high waist, crossed back and pockets.
Sandals -Braided sandals are super bohemian, especially with this dress.
Sunglasses – Aviators.
Wallet – Floral with a touch of gold.
Necklace – Drape-y gold strands.
Work
Sweater – A little ruffled cardigan in dark gray.
Belt – From Target.
Shoes – Brown metallic peep toes.