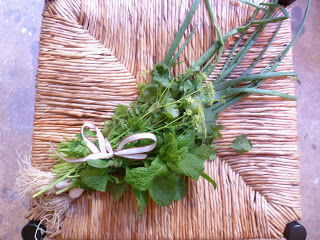 Another quiet weekend. Rob and I had some recovery to do from the many events of the week. Plus, windy cold weather made it a pain to spend much time outside. We left a party at my office on Friday night for some rapping at home on the Xbox.
Saturday morning, I slept in and futzed around on the internet. Rob went to volunteer with the bike coalition at the Ferry Building and I walked downtown for some spring clothes shopping (to do list!). I found a linen pencil skirt on sale for $30 and a loose ivory sweater for $25. Met up with Rob in the afternoon downtown and I joined him at the office for a rehearsal of a big presentation they have next week. Back home to spin on the bike for an hour and then back to the office to pick him up from work. Impromptu date night with pints of Guinness in a cozy booth at
House of Shields
and then sushi dinner at a fancy new place called
Ki
around the corner.
Up earlier on Sunday, we grabbed the paper, a bottle of champaign and a bouquet of herbs to drive to Seth and Amy's apartment for mother's day brunch: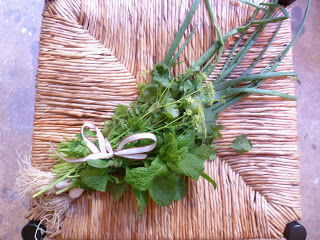 Mimosas, cinnamon french toast, fresh fruit and an adorably flirty baby girl for entertainment.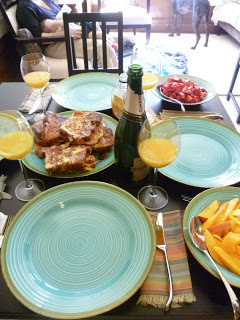 On the way back, we stopped by Margaret's apartment to pick up her old Schwin for Trent to borrow while in town this summer.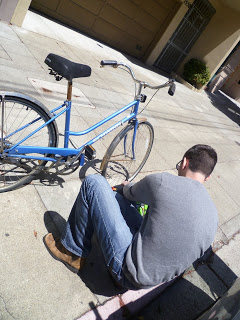 Then to
Oil Can Henry's
for a deluxe oil change (to do list!) – I love that they wear bow ties and bring you a paper while you wait in the car. Back at the apartment, Rob headed to work for one more weekend rehearsal and I walked to meet Margaret downtown for some high-intensity shopping. I found two inexpensive maxi dresses, a light sweater, some jewelry and a pair of pajamas for my summer collection. Dinner back at the apartment – my favorite
broccoli pasta
. Margaret headed home. Rob and I played battleship before calling it a night.