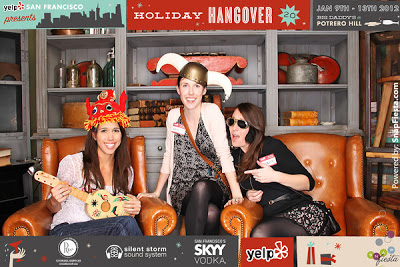 On Tuesday, Nicole, Elizabeth and I got tickets to one of Yelp's Holiday Hangover parties! This is the second year Yelp held fun free events for five nights. Our night had a 1950's theme, with a lot of people dressed to the nines. The venue was a cool antiques warehouse (so many places to rest your drinks!) packed full of all sorts of weird things to discover:
Food: Meatball sandwiches, rice pudding, buffalo mac n' cheese, korean tacos, mini cupcakes and really tasty organic caramels
Drinks: 1950's cocktails including white russians, moscow mules and old fashions plus wine tasting and beer. Apparently, interesting ice is the new cocktail trend. Every cocktail had it's own unique ice including shaved and giant cubes
Activities: Photobooth, thai massages, 1950's hair & makeup, DJ playing LP record' and a one man band who covered 90's rock songs
Such a great party. Free food and drinks are my favorite thing!