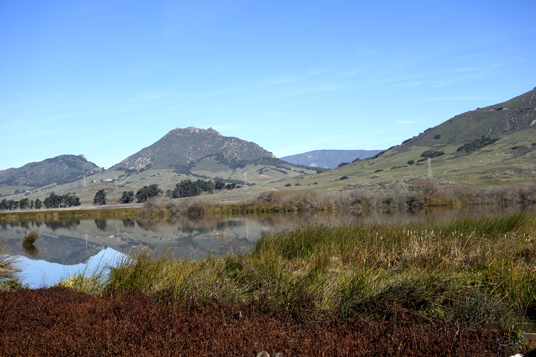 How was your long weekend? I spent mine down in San Luis Obispo helping throw a flowery baby shower for a family friend, April. Jean and I drove down on Friday night and arrived really late. On Saturday morning, we woke to a gorgeous, frosty day that soon turned warm. How pretty is the view from my parent's backyard?
The usually Saturday morning routine of farmer's market, dog run and breakfast at the Budget Cafe. Dad went off on a boat trip and the "girls" headed to Morro Bay to pick up crab for dinner and tarts for the shower on Sunday. With it so sunny and warm out, we swung by the Shell Shop (my favorite!) and the amazing Garden Gallery along the way:
Jean and I headed out straight after returning from Morro Bay for baby shower supplies. Lots of groceries, tissue papers and craft materials needed for the 16-person event. I'll share all the party details separately this week. Quick break from all the tissue paper work for a big crab, sourdough and salad dinner together. More prep work late into the night.
On Sunday, we had a lazy morning with coffee, pastries and the paper before launching into full blown party prep mode. It paid off – we finished everything with an hour to spare until guests arrived. The dogs even got a pre-party walk.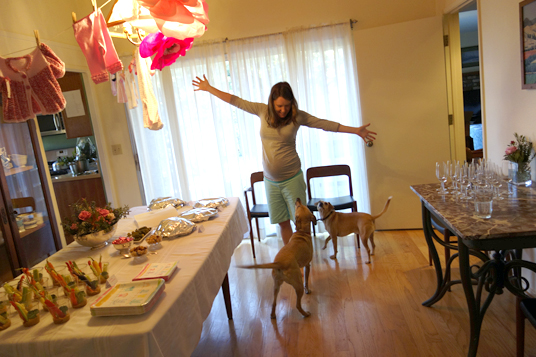 The shower for April started at 2:00 and was a big success! It was fun to catch up with families from the neighborhood that I haven't seen in 10+ years and really cute to see Jean and her friend as pregnant ladies.
The party ended at 5:30 and we had the guest of honor and her husband over for chinese delivery after. I crashed into bed at 9:00 – whew! It was a big day.
Jean and I hit the road on Monday morning – only an hour behind schedule, which is pretty good for Jean who hates saying goodbye in every situation. Uneventful, but long, drive home. I dropped her off in Palo Alto at 1:30 and drove straight to Nicole's apartment in the Marina to pick her up for a hike. We took advantage of the really lovely, warm weather this weekend to hike Land's End and Sutro Park. Even posing for an awkward photo, like tourists:
Early dinner at Park Chalet after the hike. We headed back to the car just in time to catch the sunset over Ocean Beach. I drove her home and stopped in to help judge a couple recent purchases.
Then, finally, back home to my own apartment at 6:00. Nice hot bath and a lot of laziness for the rest of the evening.
I'm excited to share all the "April Shower" recipes, decorations and activities with you this week. Of all the baby showers I've hosted (maybe 8 or 9 so far) this was the girliest yet and so much fun!