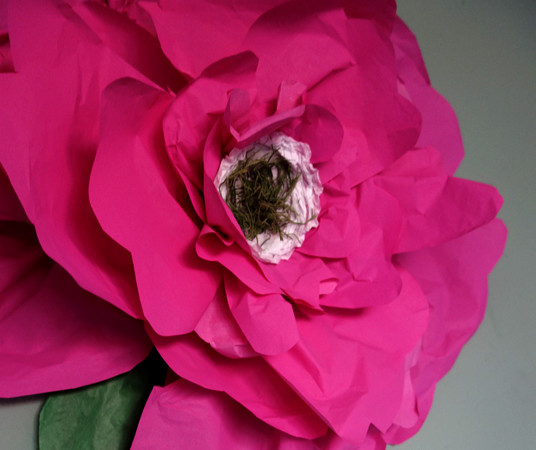 Party Recipe: Flower Shower
This was such a fun baby shower to host! I've thrown all kinds of baby showers in the past with themes as varied as disco, library, mustaches and camping – but this was the first really girly one. Jean and I started off with the idea of April (the guest of honor) showers bringing baby flowers and mom offered to host down in San Luis Obispo. Our decorations centered around about 35 pink tissue paper flowers of all sizes we made the night before.
For the party activity, we skipped he diaper games and did a little floral design. A couple bouquets of roses and greenery cut from the garden turned into the materials for making flower crowns and corsages. These are the samples we prepared in advance:
And the supplies accidentally made a really lovely centerpiece for the living room. The roses are suspended in that low bowl with the help of a grid of clear tape.
In the dining room, we hung a clothes line with cute pink and white baby clothes – the socks just kill me – and topped the chandelier with tissue paper flowers. For food, we served veggie cups with hummus, a trio of tea sandwiches (curry chicken salad on sourdough, ham and swiss on rye and cucumber with dill and lemon on wheat), nuts, olives and pickles. That was followed by beautiful fruit tarts during gift opening.
Drinks were a choice of champagne or sparkling cider mixed with with pink guava juice.
Our guest of honor, April, looked so, so pretty with her flower crown, red hair and tissue paper garden surroundings.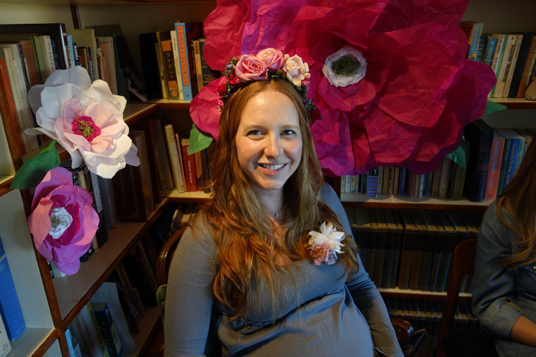 For party favors, guests took home bundles of wildflower seeds .