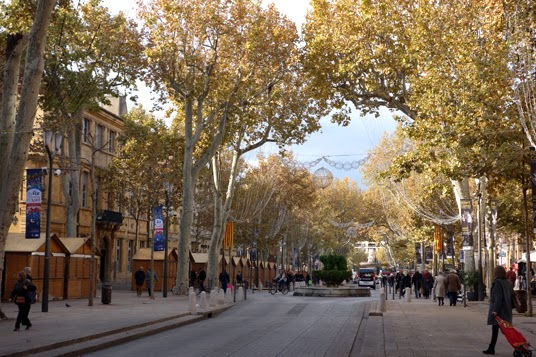 Au Revoir Aix-en-Provence
This was an uneventful travel day – the best kind you could hope for. Rob and I slept in this morning and then set out to explore Aix-en-Provence for the final time. It was a busy weekend market day for the city.
Along the way, I spotted these "souffle aux amande" cookies and swung into the bakery.
Crispy and light – a perfect accomplice for wandering. I think this is a recipe for the cookies if you want to try them.
Walked around inside Hotel du Ville (city hall) for an local art exhibit and peeked in on the marriage hall.
Lots of people out doing their weekend shopping. The fish markets here are so fresh – they smell like bright salt water and seaweed, not fish.
Stopped for a coffee at a busy corner cafe. I'm getting really good at ordering "cafe creme!"
The day was getting sunny and warm and we were dreaming of having a long lunch with oysters at Deux Garcons – but it was time to go home and pack. Picked up two slices of thin crust pizza for the walk home – they cut it with foot-long scissors and fold it up in craft paper for you. Packed, walked to the bus station and caught the 20 line to Nice. The bus is cheaper and faster than the train, but the staff are less friendly. Made it to the Nice airport at sunset. It feels so warm compared to Aix!
From there, we boarded a very crowded 400 bus to Vence. A lot of stops to make before making it to our new apartment.
Got stuck in traffic at Cagnes-sur-Mer with a big night market in town. Very dark out, even with the full moon, but we could see that the surrounding area was becoming pretty elegant. Arrived at 6:00 and quickly checked in to our final French apartment.
It's a newly redone, top-floor unit in an old building. Very newly redone, we're one of only three units that are occupied in the four story building. Really pretty and our hosts were very gracious. A few minutes to polish up before walking out to town for dinner. Got a little lost in the old walled city.
Had a long dinner in a cafe down the block from our apartment. A friendly waiter made sure we had plenty of the famous South of France black olive-anchovy tapenade along with our wine, beer, steak and salmon.
It's exciting to see what Vence is really like when the sun comes up tomorrow! I think we're going to like it a lot.