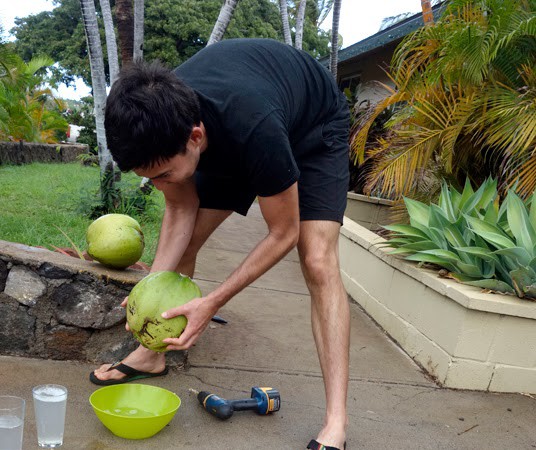 Hawaii: Avoiding the Urchins
Rob and Trent woke up early for their bike ride – but only to find it pouring rain and decided to push back their adventure for a day. A lazy morning instead, watching a lot of Discovery Channel shows set in Alaska. All that "surviving" amped them up to tackle the young coconuts left in the front yard from Haley's tree trimmers.
The fresh coconut water will come in handy to hydrate when they ride tomorrow morning. They had a great time smashing the drained coconuts open to reach the meat.
Once the rain lightened up, we walked down to grab sandwiches for lunch in Kihei.
Delish! On our way back, we stopped at "Kam 1" for a quick dip. It was fun to take my new fringe bikini out for a test run. I picked up two new suits for a crazy bargain at Ross yesterday.
The beach was busy and the weather was calm. Perfect for swimming…right?
Nope! We quickly discovered that the ocean floor here was teeming with spiny sea urchins. With each wave, you could feel them brush past your feet like tiny tumbleweeds. Yikes! You certainly wouldn't want to step on one.
After drying off, we walked back home at stopped for shaved ice near the house. Appropriately festive holiday colors!
Made guava margaritas at home in the afternoon and did a big clean-up of Haley's house. We are a messy bunch! Rob and I walked down along the coast to catch the sunset in the evening.
We saw people practicing a hula dance and blowing conch shells on the beach – and not in a touristy way. These seemed to be actual locals. So pretty.
After sunset, Rob and I walked to the market for dinner supplies. Jean and Trent went out for a fancy dinner at the Fairmont Hotel while we watched the baby. I cooked up pan-grilled Walu with brown rice and a salad of cucumbers and asian pears.