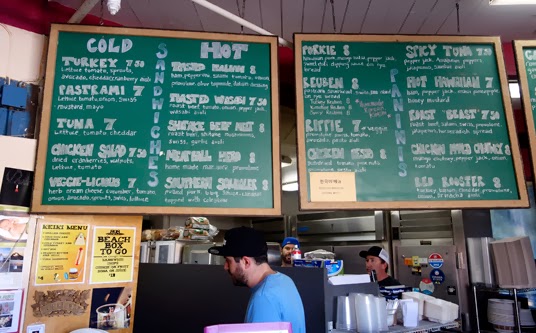 Hawaii: Sandwiches at 808 Deli
No matter where we travel, I'm always on the hunt for the perfect sandwich. I'm known to route flights through Las Vegas just for a stop at the Port of Subs in the terminal. So, yesterday we set out to taste the top-rated sandwiches on Maui at 808 Deli.
The menu features classic combinations, along with local favorite ingredients like kalua pork and kimchee. Trent got a version of a BBQ pulled pork sandwich made with kalua pork and sweet teriyaki sauce. Rob got a version with pineapple and a sweet chili sauce.
I ordered a hoagie with turkey, pepperoni, cheese, avocado, bacon crumbles and a spicy sauce made with what tasted like dill and sriracha. Yum!
Jean had a version of mine with chicken on sourdough.
To finish it off, we ordered a dish of homemade butterscotch pudding over toffee macadamia nut cookies. Not only delicious, the deli donates 100% of pudding sales to a different local charity each month.
Overall: great sandwiches, fast service and affordable prices. I'll definitely be coming back to 808 Deli!
Do you have a favorite place to eat in Maui that we should try? Leave your recommendations in the comments.