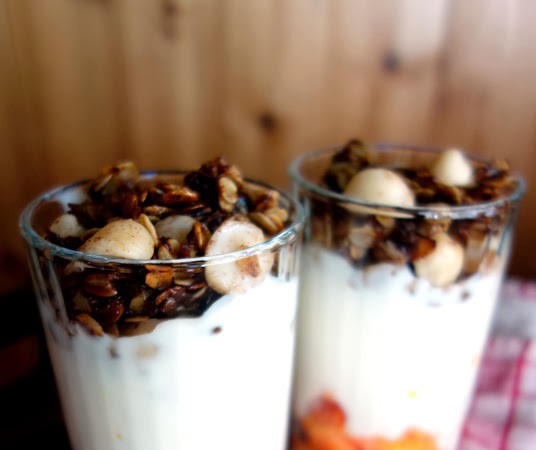 Hawaii: Papaya, Passion Fruit and Macadamia Granola Yogurt Parfait
I started chipping away at all that tropical fruit on Saturday morning with an impromptu yogurt parfait made with the flavors of Maui.
The challenge: find a way to use the tart and intense yellow passion fruit. It was too much to eat on it's own.
And, to use up the rest of the yellow papaya.
Layer 1: Macadamia Granola
We didn't have any granola on hand, so I made a quick version of this stovetop recipe. Browned the butter to give it extra flavor and topped the finished oats with cinnamon and unsalted macadamia nuts. I'm terribly impatient about measuring, so I think I had far too much butter and brown sugar in the recipe. It was more like caramel oatmeal…a happy accident!
Layer 2: Passion Fruit Yogurt
Scoop out the seeds from one passion fruit into two cups of vanilla yogurt and mix well. I was excited to find my favorite local Brown Cow yogurt for sale at the market here.
Layer 3: Chopped Papaya
Couldn't be simpler!
The final result was a really nice blend of flavors. The passion fruit was mellowed out by the tart passion fruit yogurt and the sweet, salty granola tied it all together.