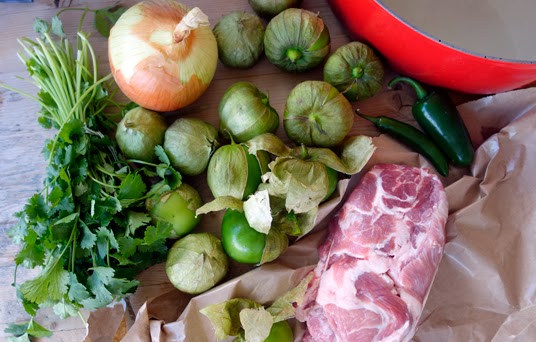 Recipe: Chile Verde with Pork Shoulder
Looking for an hearty and healthy winter stew that brings the spice and can serve a crowd? A big pot of green chile made with pork shoulder is the answer. It takes a few hours to simmer, but the end result is so worth the effort. I used this recipe from Martha Stewart as an inspiration, but used beans and hominy to replace half the requested pork shoulder. We've already served this to two different friends for lunch and dinner and still have another meal's worth left over.
Chile Verde with Pork Shoulder
Makes 10 servings
2 lbs of pork shoulder, cut into 2 inch cubes with the largest pieces of fat trimmed off
10-14 fresh tomatillos
1 28 ounce can of black beans
1 28 ounce of pinto beans
1 28 ounce can of white hominy (aka: "Maize Blanco")
1 32 ounce box of organic chicken broth
1 white onion, diced
1 bunch of fresh cilantro (with some reserved to top the finished chile)
1 fresh jalapeño pepper
1 fresh serrano pepper
1 tablespoon of chile powder
Salt and pepper
Cube and cut off the largest pieces of fat from your piece of pork shoulder. Rub with a dash of salt and pepper. Brown the cubes of pork in a large pan. Add a dash of oil if needed, depending on how much fat you managed to trim off. When the pork is nearly browned, add the chopped onion and cook down together.
While your pork is browning, remove the "husk" from the tomatillos, rinse and put under a hot broiler in a baking pan with the fresh peppers. Roast until each tomatillo has a good brown color, about 10 minutes. Blend the tomatillos in a food processor or blender with the fresh cilantro. Chop the roasted peppers into 1/4 inch slices. Remove the seeds and ribs if you want a less spicy chile (I don't!).
Top the browned pork and onions with the tomatillo mixture, roasted chilies, your three large cans of drained beans/hominy, the chicken broth and the chile powder. Be forewarned, at this stage and for the next couple hours, the chile will not look appetizing at all.