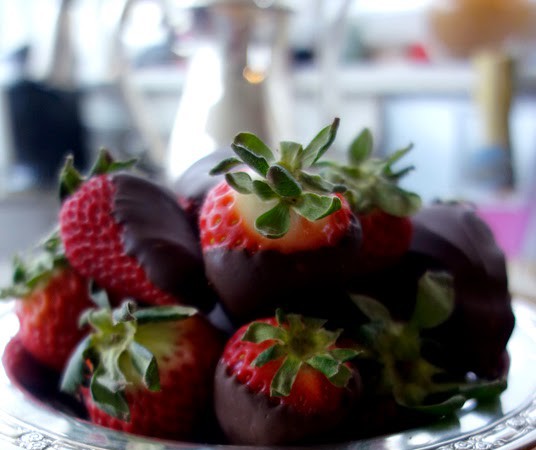 A Gluten-Free Toddler Tea Party for Valentine's Day
Your first tea party! What a fun occasion and what an honor to be hostess for it. My friend Amy brought her two- and three- year old daughters over today for a Valentine's Day morning tea with at 10:00 am.
The menu for this tea had to be gluten-free and full of things that young ladies like to eat. I made chocolate-dipped strawberries and brownies (the gluten-free Betty Crocker mix is quite good) the night before.
In the morning, I filled small silver baskets with carrot, snap pea and olive crudités. What toddler can pass up black olives?
I also assembled two kinds of tea sandwiches on gluten free white bread (not nearly as good as the brownie mix): cucumber over dill cream cheese and cheddar pesto.
The final piece of the menu was a fresh blackberry fool, topping gluten-free cinnamon cookies.
The guests arrived right on time and in cute black-white-pink outfits. Margaret was also able to take the morning off work to join us for tea!
Rob graciously agreed to serve as the "butler" – pouring out our cups of Raspberry Zinger. He even brought us a bell to call for refills while he was off working down the hall.
The stuffed friends – Barkly, Scruffy, Australia and Hedwig – had a seat of honor at the table too.
After tea, we picked out ribbons to dress up the stuffed friends. The girls also got to take home the rose and gold teacups – which I had picked up at a local thrift store just for this party.
A very fun morning with two charming girls and two lovely friends!