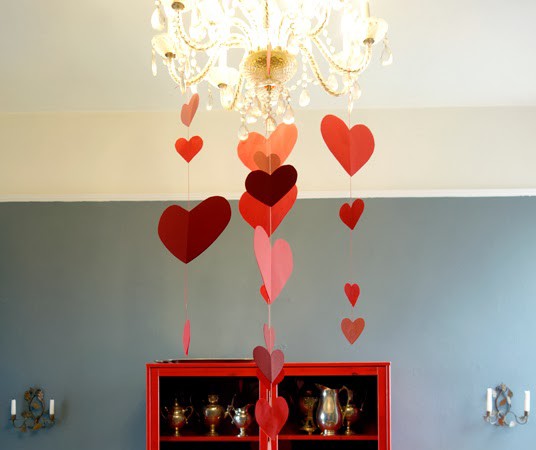 Paper Heart Valentine's Day Chandelier
Valentine's Day festivities are heating up at our apartment. Tomorrow, I'm hosting not one – but two – parties on the theme. We start the morning with a Valentine's Day tea party with two young ladies who are friends of mine. Then, a couple friends are coming for dinner in the evening. To summarize…there's been a lot of construction paper in play!
The main decoration for the house is a giant paper heart mobile attached to the chandelier.
I think this is my favorite thing I've ever made with construction paper. The hearts are sandwiched on to embroidery thread. The bottom heart on each thread has a penny taped in for extra weight.
I just adore the way the hearts spin and float above the table. I may never take it down!
Stay tuned later this week for more details on both our Valentine's Day entertaining events.