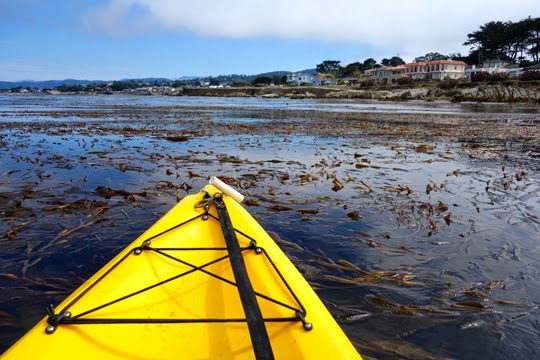 Kayaking through Pacific Grove's Kelp Forest
A kayak is a fantastic way to get a sense of how special the marine ecosystem is in Monterey Bay. Rob and I rented a tandem kayak at Lover's Point and set out our last afternoon. Not being the world's biggest whale fan…I, of course, had a close encounter with a gray whale not five minutes after we set out. It came up just 100 yards from us. Scary and fun!
The whale kept swimming away from our boat, thankfully. We spotted otters, all kinds of birds and seals while paddling through the kelp forest after that. In some places, the kelp was so thick that we were dragging the boat across and egrets were standing on top of the water. The water was clear enough in the sun to give me a bit of vertigo when looking down.
We paddled west all the way to "our" beach, where it was easier to spy on the nutty seals who claim tiny rocks during high tide and then flop out for hours.
A nice way to explore the bay and to get some exercise while on vacation.