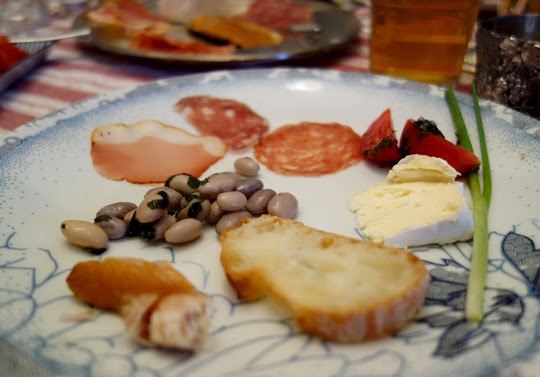 5 Step Dinner Party: Family-Style Italian
I think the heat wave in San Francisco is about to break. It certainly was hot when we had old friends over for a casual Italian meal on Sunday night. When you're spending time with people you've known for 13 years, it is cause for celebration – hot or not.
Menu:
Charcuterie: A spread of sbriciolona, soppressata, lomo, smoked trout, mt. tam cheese, tomatoes with kale pesto, green onions, bread, fresh cranberry beans with truffle oil and basil
Spaghetti with turkey ragu
Garlic bread
Chocolate gelato
Step 1: Set the Table
After a lazy morning of coffee and the Sunday paper in bed, I set the table with a mix of red and white linens. For the two kids at the end: smaller plates and the smaller luncheon set of silver.
Step 2: Shop
Margaret joined me to brave the heat with a walk to farmer's market. We drank fresh watermelon and pomegranate juice while shopping for basil, tomatoes, cranberry beans and other supplies for the week ahead including asian pears, fuji apples, broccoli and persimmons. On the way home, we stopped at Fatted Calf for a spread of house-cured meats and cheese.
Step 3: Prep
Margaret and I cooled off from our hike around town by shelling the fresh cranberry beans in the kitchen with all the doors and windows wide open. She headed home shortly after our guest of honor, Mike, arrived to stay the week for the Dreamforce conference. I boiled the fresh beans for 15 minutes and then mixed them with olive oil and truffle salt. Mike helped chop onions for the ragu sauce and prepare the garlic bread while we waited for everyone else to arrive.
Step 4: Antipasto
Our friends Peter and Jill arrived with their two young kids in tow. With the kids playing in the other room, the grown-ups sat down to glasses of locally-brewed beer and the spread of cold meats, cheeses and veggies.
Step 5: Mangiare
The kids joined us at the table for a big bowl of classic spaghetti with turkey ragu (the secret to my family recipe is plenty of red wine cooked down in the sauce) and hot garlic bread. Jill and Peter brought an excellent red wine to go with the pasta.
We finished the meal with simple chocolate gelato from a ice-cream shop around the corner. So fun to catch up with old friends over a nice meal!