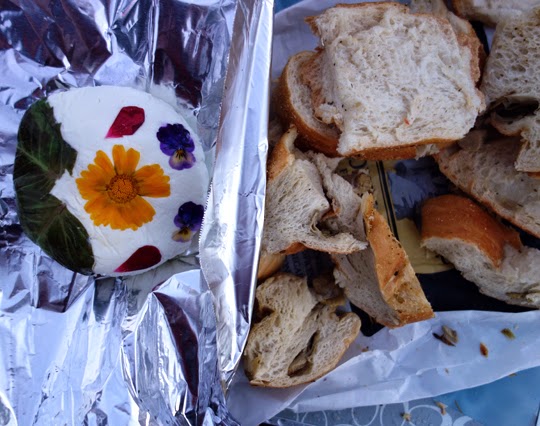 5 Step Dinner Party: Pescadero BBQ for 15 Guests
A highlight of my birthday weekend in Pescadero was making dinner for our 15 guests using local ingredients and a blazing hot campfire! Nothing tastes better than what you've cooked with friends over a wood fire under the Milky Way.
Menu:
Grilled Harley Farm goat cheese
Artichoke garlic bread from Arcangeli Grocery
Chile verde pork loin
Zucchini and bell peppers
Campfire black beans
Homemade s'mores
Lemon coconut bundt cake
Step 1: Shop
Dinner plans came together at the last minute. We bought the fresh artichoke bread, marinated pork loin, veggies, beans from the adorably tiny Arcangeli Grocery store in Pescadero after lunch. Picked up goat cheese at Harley Farm on the way home.
Step 2: Appetizers
Both of the goat cheeses – the Van Goat with basil and sunflower seeds and the Dill Chevre – cooked on the firepit for 20 minutes until smokey and melty. We served the hot cheeses with cubes of artichoke bread for the appetizer. Two giant loaves of artichoke bread disappeared almost instantly
Step 3: Dinner
A pot of black beans with salsa went on the fire first. The marinated pork loin and veggies were cut into thin strips – carne asada style – for easier grilling. The marinade on the pork caramelized in the fire and the result was deliciously crispy, juicy strips of meat.
Step 4: Dessert, Part I
Our talented friend Rebecca went above and beyond with a spread of homemade marshmallows in three flavors: vanilla, mint and chocolate. Plus, vanilla and chocolate shortbread (stamped with my initials, because of course) and salted caramel sauce. Smore's have never been so sophisticated!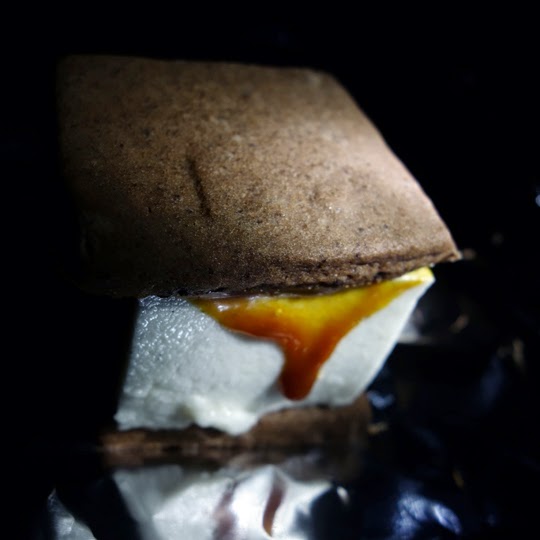 Step 5: Dessert, Part II
Margaret made a delicious lemon bunt cake with coconut frosting for my official birthday cake. Her secret is adding a box of pudding mix and an extra egg to the cake recipe to make it super moist.
After dinner, I was surprised by an impromptu jazz performance around the fire. Greg played trumpet, Sean on guitar and Pierre with an improvised drum kit made from water jugs, beer bottles and wood logs. They played jazz standards and Rob and I danced to "Isn't it Romantic" by the fire. Such an elegant camping affair!